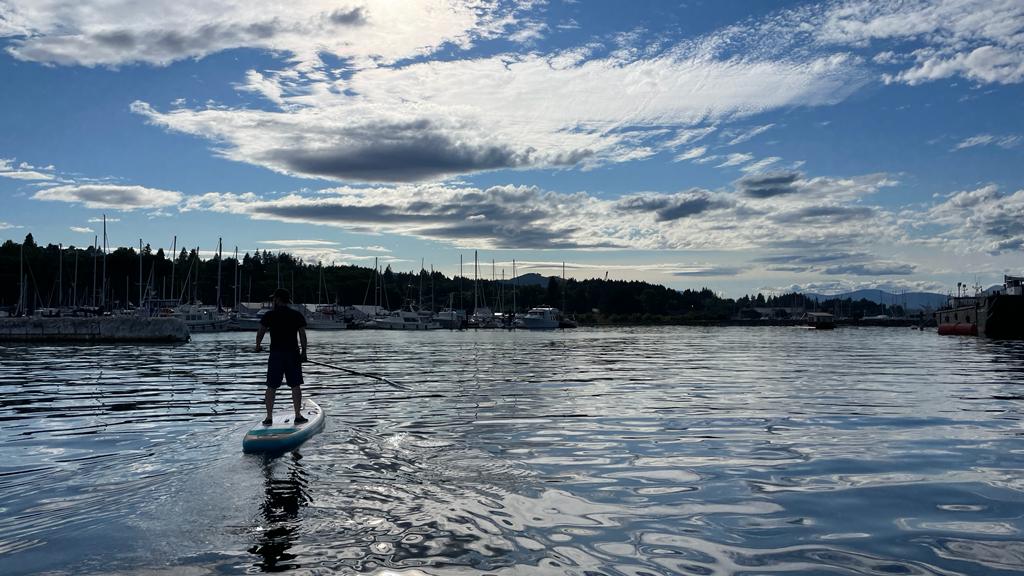 July 17, 2023
Lake. River. Ocean.
I've had the good fortune of having gigged in every month since the calendar turned over to 2023.  January saw us in Ireland, February Kansas City for Folk Alliance; March & April I was on my own tour of Western Canada, and finally in May & June I was back out on the road opening for the great Burton Cummings of Guess Who fame.  It really was a fine six months.
Once I returned home, I hit a wall.  I needed to reconnect with my family & my friends.  There's a duality to a life in music; it requires a balance that I'm not always adept at manoeuvring.  I'm happy to say, however, that these last few weeks of domestication have treated me very, very well.
Water is a constant in my life & in my songs.  I've basked in returning to some of my favourite haunts in & around my hometown: Hikes to Heart Lake until the legs are jelly; paddle boarding in Oyster Harbour near the Ladysmith marina, & ripping weeds out of the yard & looking after our place… all these things give me peace & help me recharge my batteries until the next tour.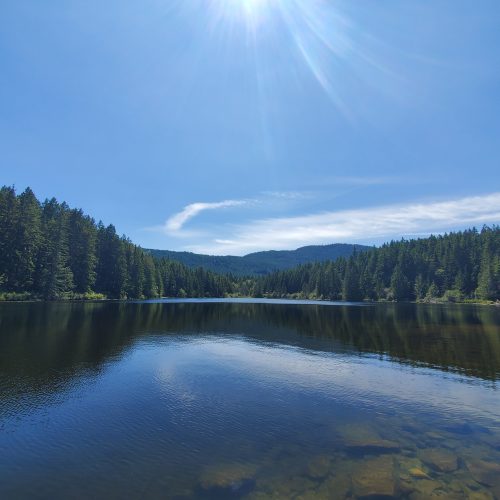 Here's a shot of Heart Lake I snapped a couple of days ago.  We work our butts off to get to the top, and then jump in for a refreshing, rewarding swim to cool us off.  What could be better?
I used to run up this hike when I was 17; it's a little different now at 43, but I'm happy to say that it still doesn't give me much difficulty.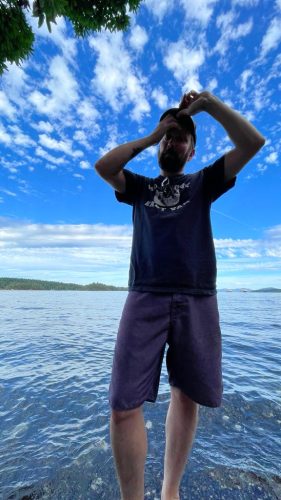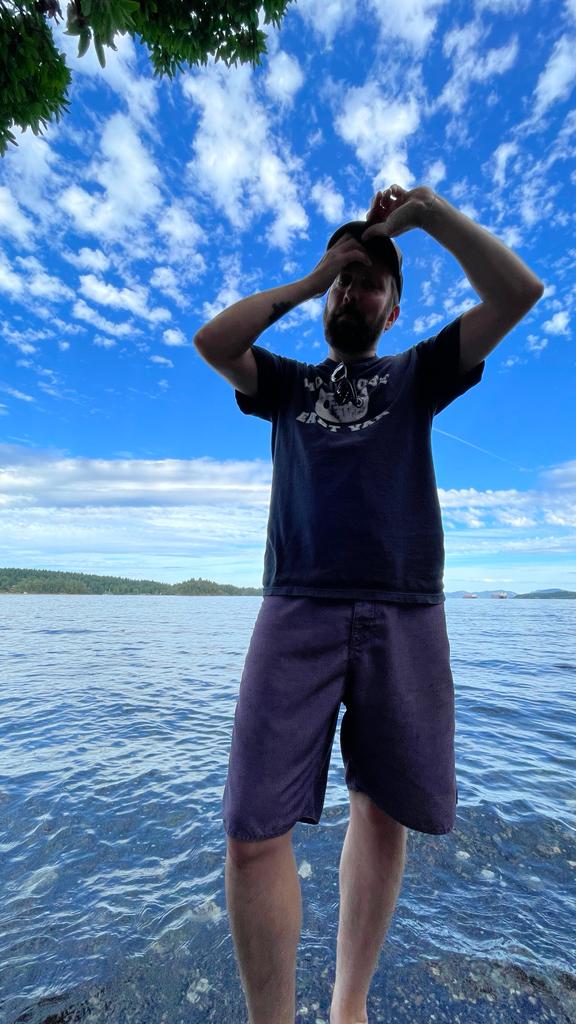 The skies were perfect last night in the harbour.  Cathleen & I paddled out beyond the Ladysmith Amphitheatre to catch a listen to whatever live music they had playing before heading home for a beer on the patio.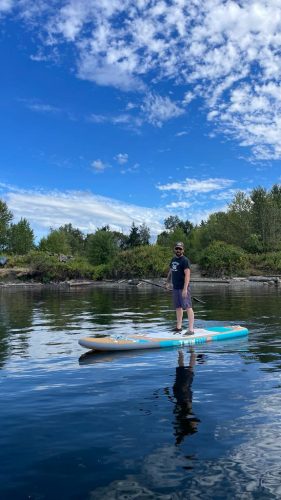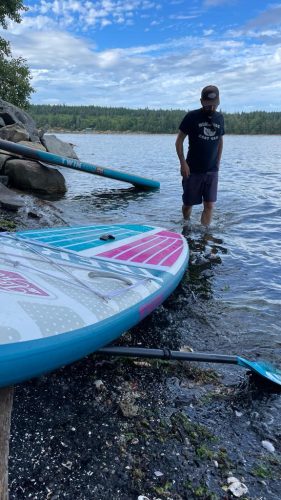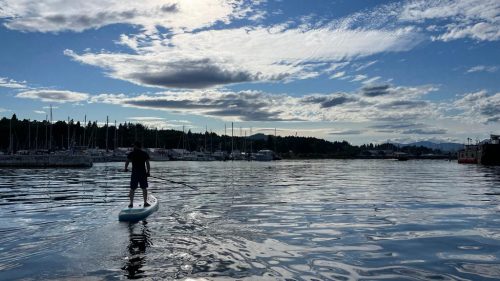 Cathleen photo(s).
This is home.
After feeling the emotional & financial pinch the last few years, I feel like 2023 has been very good to us so far.  Of course we're only halfway in, but it's deep enough into the calendar to take stock of what we've got here, & I feel lucky.
The experiences I've had onstage this year have been absolutely sublime; I've watched as another young'un from our nest has graduated high school & as of Aug 11, I'll have released another 2 singles into the ether.  We've grown our business & our team & an album I've been sitting on for way too long is now coming out this fall.  Excitement for life & career & possibility is mounting.  No bland days & avoiding the mundane by moving around & seeing familiar faces.  We're alright.
I can't wait to see what's in store from now 'til Christmas.
First thing's first – that aforementioned single that arrives Aug. 11 – "Sometimes Life's Amazing" – it's the third to come out from the upcoming record ("Live Now"), behind 'One More Fire' & 'Lost & Found.'  We shot a video for it while on the tour with Burton Cummings.  It's a busy little visual that, I think, captures the flurry that encapsulates being on tour.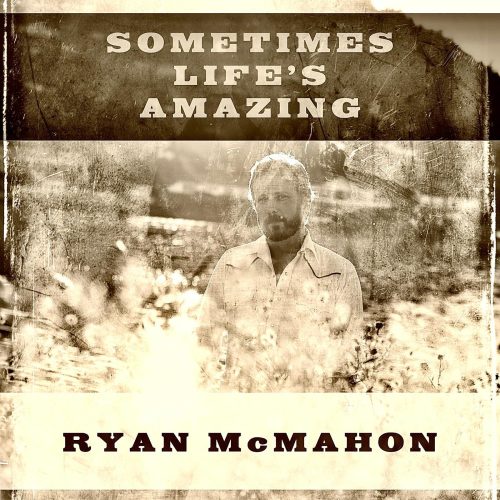 Matt Tinney photo
Next week, I'm back on a plane to Edmonton to play the Taste of Edmonton Festival.  Once again, just me and my guitar out there, just like on the Burton tour.  I'm looking forward to getting to a place where I've got my whole band back up there with me – all I can say is that it's part of the plan for the record release.  I wanna make more noise with my pals!
If you're in BC wine country, there are 3 chances to catch me during August long weekend: Kelowna, Summerland & Oliver Aug 4,5,+6.  Check out https://ryanmcmahon.com/tour/ for deets.
That's about it for dear diary time – that's where I've been & what I've been up to during the month of July.  I hope your summer's have all been going swimmingly & that you're smiling.  Live now & prosper. 😉
~R