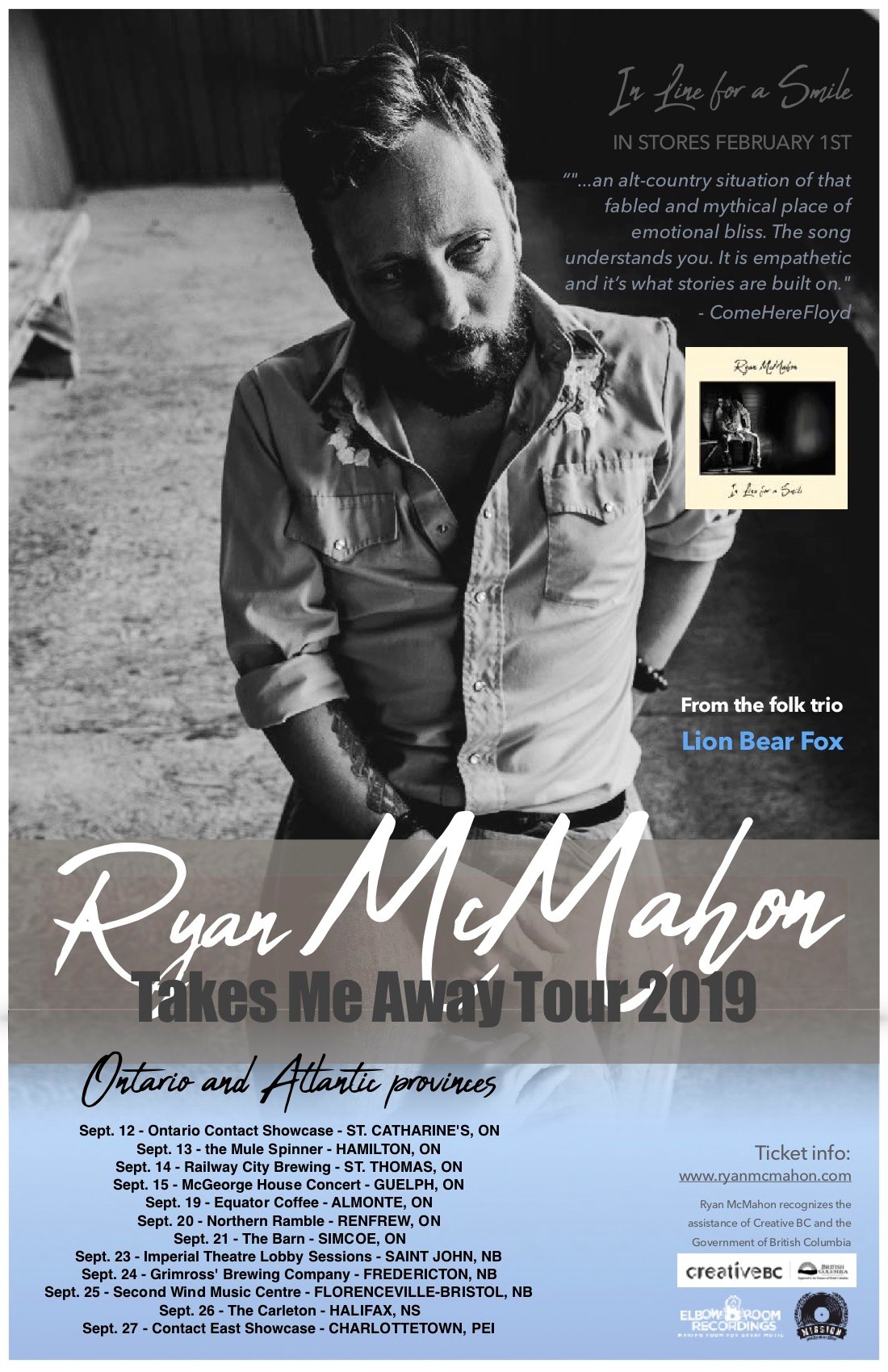 August 1, 2019
Takes Me Away to Ontario & Atlantic Canada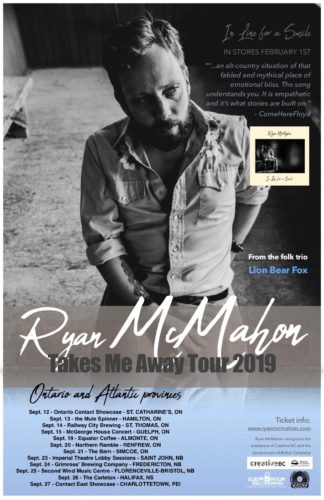 It's August 1st, and I'm all systems go towards fall.  Right after I run out to Ontario & Denmark for tour dates with Lion Bear Fox, that is.
So I've just returned home after 3 fantastical shows in the BC interior with LBF… For a myriad of reasons, the band has taken a step back in 2019.  We're still playing, but when we want, and on our own terms.  A few things began leading us in a joyless direction, believe it or not.  We just weren't having the same kind of fun as we were during our formative years as a band.  You sometimes hear the same sentiment in marriages – which is why you read so often that bands are like marriages.  In any event, re-visiting places like Lake Country, Christina Lake and Blind Bay (near Salmon Arm) was quite rejuvenating for us all, and really reminded us of the love that our friends & fans still have for the band.  It makes me very grateful to have both projects in my life.
Which brings me to September… fall is right around the corner, and I'm headed out to perform 2 showcases; one in St. Catharine's Ontario; the other in Charlottetown, PEI.  Hey Ryan: what's a showcase?
A showcase is 12-15 minutes long.  All the talent buyers of a particular region gather together at a conference and watch you do your thing for 12-15 minutes.  3 songs.  Charm their pants off.  Do your best, but don't hold the stick too tight.  Give'r and hope that they all hire you and you make thousands and build that grotto out in the back yard you've been talking about installing for years but can't afford.
Now there was a minor scheduling issue.  The Ontario showcase fell on September 12th, and the Charlottetown showcase fell on the 27th.  Was I gonna do one, travel all the way back home out West, then right back again?  Naw – opportunity knocks and we felt it appropriate to hang out East for a while, and really dip our toes into that Total Recall-ian, red PEI sand.  We called it a tour.  I'm bringing a condensed version of my band out – Lance Lapointe on bass & guitar, and Matthew Atkins on drum kit and health food kicks.  I'm doing a lot of the heavy lifting on guitar, and I hope I'm up for it.  Our set lists span all the way from Weeks, Months, Years material to 'Smile.'  I'm playing covers from the Turtles to the Hip.  It's going to be fun.  We're playing some really small venues out there, as I'm paying dues again.  It's gonna be sweaty and gnarly at times, and I'm excited about it all.  We're going to laugh, cry, and connect.  Tell your friends.
SEPT. 12 – Ontario Contact Showcase – ST. CATHARINE'S, ON
SEPT. 13 – The Mule Spinner – HAMILTON, ON
SEPT. 14 – Railway City Brewing – ST. THOMAS, ON
SEPT. 15 – McGeorge House Concert *Matinee* – GUELPH, ON
SEPT. 19 – Equator Coffee – ALMONTE, ON
SEPT. 20 – Batstone's Northern Ramble – RENFREW, ON
SEPT. 21 – The Barn – SIMCOE, ON
SEPT. 23 – Imperial Theatre Lobby Sessions – SAINT JOHN, NB
SEPT. 24 – Grimross' Brewing Company – FREDERICTON, NB
SEPT. 25 – Second Wind Music Centre – FLORENCEVILLE-BRISTOL, NB
SEPT. 26 – The Carleton – HALIFAX, NS
SEPT. 27 – Contact East / Florence Simmons Performance Hall – CHARLOTTETOWN, PEI